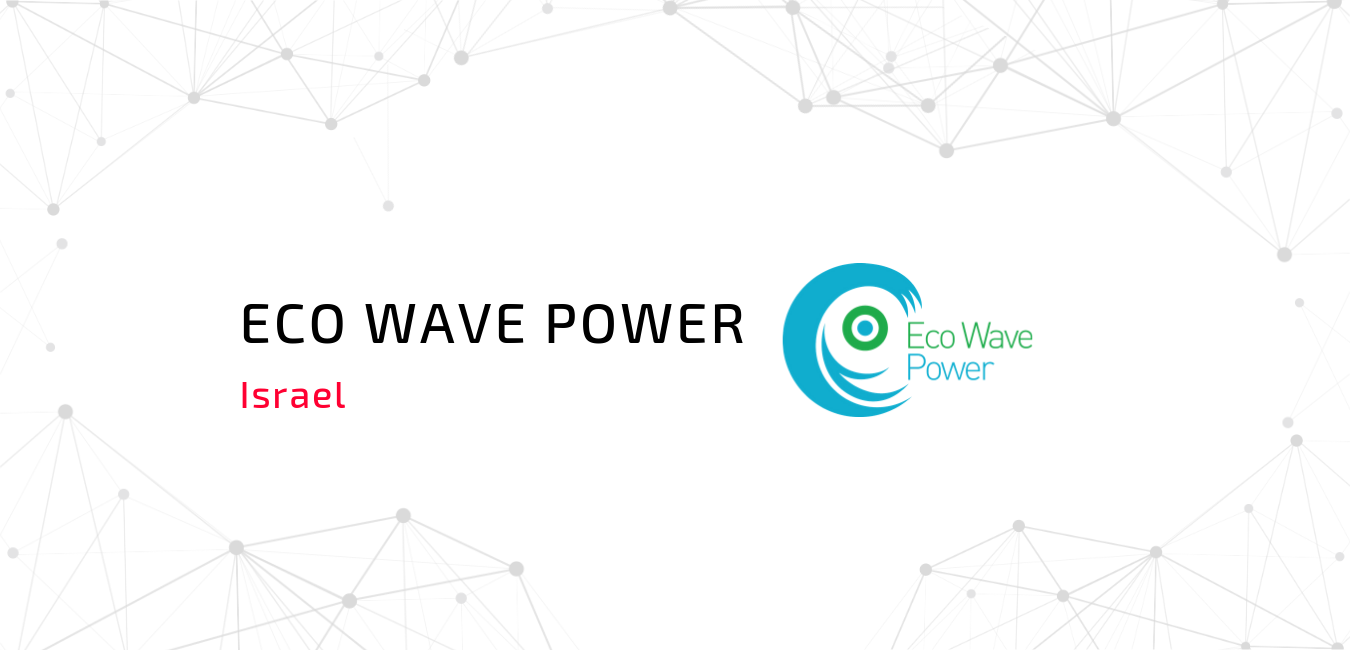 #SET100 at WEC24 – Road to Abu Dhabi Interview: Eco Wave Power
September 10, 2019
As part of the SET Award 2019, the top 100-ranked start-ups who applied for the SET Award were rewarded the opportunity to participate and showcase as part of the Innovation Hub at the 24th World Energy Congress (WEC24) 2019 in Abu Dhabi. Sponsored by the Dubai Electricity and Water Authority, this incredible opportunity includes travel and accommodation expenses, and a showcase space for the SET100 at the congress.
In the lead up to WEC24, we asked the participating SET100 start-ups to answer a few questions to provide potential partners the opportunity to learn more about them and to also help other start-ups learn from their experiences. We thank them for their work toward the global energy transition and for sharing with us the following insights.
The Eco Wave Power company has developed proprietary technology for extracting energy from ocean and sea waves and its conversion into electricity. The technology enables the delivery of effective, sustainable, practical, feasible, and affordable wave energy solutions, which are responsive to the needs of local communities, cities, and countries worldwide.

Traveling, pitching, partaking in meetings, and networking requires considerable time and effort. Other than perhaps being given a blank check, what is the best case scenario or result you as a start-up hope to get out of participating in initiatives such as the SET platform and the Innovation Hub at the 24th World Energy Congress in Abu Dhabi?
We would like to meet relevant strategic partners, as well as suitable locations (mainly ports , governments, and municipalities) which can issue approvals for the space needed for the installation of our power stations and a PPA (Power Purchase Agreement).
Given the stage of your start-up and your particular focus/sector/technology, what is one challenge that you have overcome or lesson that you have learned that may be valuable to other similar start-ups?
From our experience as a start-up, passion can lead you to great places & even if it's difficult – you should never give up!
What is one of the main obstacles or regulations that you have had to overcome prior to, or in preparation of market entry into your given business environment?
One of the main obstacles our company has had to face in order to implement our technology in new markets is the bureaucracy involved in obtaining a Feed-in Tariff for wave energy. Since wave energy is only now reaching commercialization, many countries have not standardized FITs for this new renewable energy source. We have been able to overcome this by setting up pilots in the countries of interest, which creates awareness and positive acknowledgment for this type of technology, in addition to working with law firms experienced in lobbying for energy tariffs and by working directly with government officials from relevant energy ministries. This has allowed us to obtain tariffs for wave energy in Israel and Gibraltar, the countries in which we have operational wave energy power stations.
Is there some recent news or something else you would like to share?
Eco Wave Power is pioneering the wave energy sector by operating the ONLY grid-connected wave energy array in the world (in Gibraltar), since 2016 (see here) & the Company is going public in July, 2019 on the Swedish Nasdaq.
Thanks for reading and thanks again to Nydro Energy. More information about them can be found here: https://www.ecowavepower.com/
More about the SET100, including a full list of each SET100 start-up can be found here.