The need to innovate to reach net zero by 2050 is beyond doubt. The good news: innovation in the energy sector is demonstrably working. The SET Award 2023 finalists represent the best in energy and climate tech from around the world. Ahead of the SET Tech Festival in Berlin, we take a closer look at their solutions.
In 2022, global CO2 emissions rose less than feared because clean energy offset the impact of greater fossil fuel use. The start-ups that SET champions are, in part, to thank for this. SET is therefore proud to announce the 15 best energy and climate tech start-ups for 2023. These start-ups represent the cutting-edge of energy technology and solutions available in the world right now. Together, they will pitch their innovations in front of a global audience at the annual SET Tech Festival on 28 March.
Gathered from a global pool of over 400 applicants across 63 countries, longlisted through stringent criteria and metrics, and then finally shortlisted by our expert international jury, this year's applicants raised the bar once again. Some 83% of applicants were qualified to enter (our highest level since we began), with 22% of start-ups founded by women, and a majority of all applicants having women and gender-diverse employees in positions of management.
"In the current energy crisis, the development of a stable and digital energy system is of central importance", explains Andreas Kuhlmann, CEO of the German Energy Agency (dena). "This has consistently been demonstrated, including most recently at the Munich Security Conference last month. The SET finalists and, more broadly, the companies on the SET100 2023 longlist, are all contributing to the global energy system's security through new digital business models. The SET initiative also helps track technological development across the years SET has run as well as highlighting the most important trends that will shape 2023."
Clean Energy & Storage
Energy Dome | Italy | 2019
Unlocking utility-scale, long-duration energy storage through the use of CO2, Energy Dome's innovative battery uses CO2 and thermodynamics to store and dispatch electricity quickly and cost-effectively. The Italian start-up is a newcomer to the SET platform but is already making an impact: recently receiving support from the European Innovation Council, the young company was also just tapped to join the Cleantech for Europe's Scale-Up Coalition, supported by Bill Gates's Breakthrough Energy platform.
Granular Energy | France | 2021
The way that renewable electricity certification is managed and certified is changing to an 'hourly certificates' model. This is creating (and is known as) the 24/7 carbon-free energy market. Granular Energy, the French start-up that's barely two years old, has created an innovative suite of software tools that provides utility companies with the means to effortlessly manage their energy certificates in this new, rapidly evolving arena.
Roofit.Solar Energy | Estonia | 2016
Roofit.Solar Energy produces award-winning, simple-to-install solar roofs that combine Nordic design principles with the latest in cutting-edge solar technology. Roofit.Solar's innovation lies in its steel roofs – already one of most widely recyclable, and therefore environmentally friendly, materials – which replaces traditional solar panels with a '2-in-1' roofing solution that produces electricity across a thin photovoltaic layer, covering the metal sheet.
Mobility & Transportation
Elonroad | Sweden | 2014
Elonroad converts highways into smart charging infrastructure. Whether driving or parked, their holistic solution extends the range of any EV through safe, efficient and continuous charging by installing sophisticated charging strips into asphalt. The solution has the power to radically alter the way EV infrastructure is currently thought out, and has already won support from Sweden's Lund city council to develop a successful pilot project within its urban district.
Navalt Solar & Electric Boats | India | 2013
Navalt is accelerating the electrification of shipping. The marine tech company specialises both in the manufacturing of solar electric vessels for the water and the technology that powers them. The young company of naval architects, marine engineers and data scientists has already designed and built numerous vehicles. While the company's tech arm, Oceanix, provides data science solutions that focus on ship design, vessel performance analytics, mobile applications and vessel data management.
Spark e-Fuels | Germany | 2021
Spark e-Fuels is tackling aviation's environmental impact. The young German company is developing the first Sustainable Aviation Fuel production system with direct access to renewable electricity. Already winning plaudits and support from 15 Ventures, Plug and Play, Investitionsbank Berlin, Berlin's Technical University, and Germany's Aviation Initiative for Renewable Energy, among numerous other accelerators and funds, the solution has the potential to completely decarbonise one of the biggest polluting industries on the planet.
Industry
BeChained Artificial Intelligence Technologies | Spain | 2020
BeChained helps consumers save costs and CO2 emissions through a digital twin and dispatch control system for distributed resources. Through a ledger-based information system, BeChained cuts unnecessary consumption in production processes and feeds that freed capacity back into the market by selling CO2 credits through the EU's Emissions Trading Scheme.
Heatrix | Germany | 2021
Heatrix wants to competitively replace fossil fuels in energy-intensive industries by converting renewable electricity into storable, high-temperature process heat. Currently, no carbon-neutral, cost-competitive and easy-to-integrate solution exists – although this is changing. Heatrix's innovative solution has the potential to decarbonise the majority of high-emission industries and processes, from pre-heating to calcination, heat treatment, sintering and pelletization.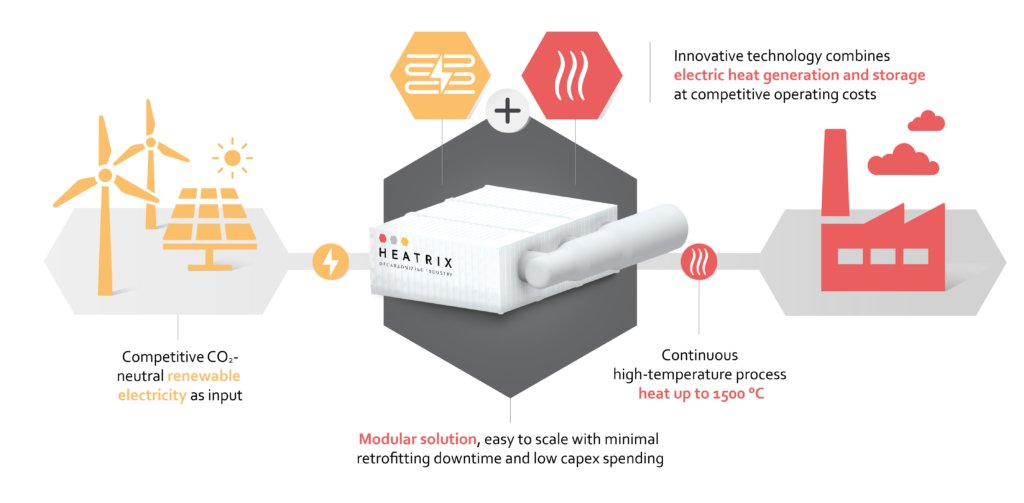 Rondo Energy | USA | 2020
The Rondo Heat Battery captures renewable electricity, delivering low-cost, zero-carbon and continuous high-temperature heat for industry. In Rondo Energy's own words, the solution is, in essence, a toaster that heats bricks, but which can charge and discharge energy for potentially 100 years (in contrast to lithium batteries which degrade, comparatively, a lot sooner). Though simple, the solution has the potential to be huge, helping to decarbonise heavy industries like steel, cement, aluminium and biofuels.
Buildings & Construction
ClimateView | Sweden | 2018
ClimateView is a Swedish climate tech company providing game-changing SaaS insights to accelerate cities' transition to net zero. ClimateView's solution is its ClimateOS platform which connects emissions to economics, helping city planners to manage, budget and mitigate their emissions to reach net zero. The company is already used by the Swedish Government and was recently featured in Wired Magazine's 100 Hottest European Start-Ups.
Hyperion Robotics | Finland | 2020
Hyperion Robotics designs, engineers and manufactures sustainable concrete structures, helping clients save time, money and embodied carbon. By bringing together 3D printing technology, automation and circular economy principles, Hyperion enables material usage savings of 75% and cuts construction's carbon footprint by up to 90%.
Lumoview Building Analytics | Germany | 2019
Lumoview's building analytics offers the fastest way to digitize buildings and reduce CO2 footprint. Through AI, the device scans rooms in just two seconds, producing dependable 3D CAD designs that empower owners to efficiently manage their buildings and reduce CO2 through targeted, deep renovations.
Quality Energy Access & SDG-7
Mega Gas Alternative Energy Enterprise | Kenya | 2019
Mega Gas Alternative Energy is a climate tech start-up whose mission is to provide low-income families with clean and affordable cooking gas through the recycling of plastic waste. Mega Gas Alternative Energy's patented process is the first of its kind in the SSA region.
Oorja Development Solutions | India | 2016
Oorja is pioneering a community-based, inclusive Pay-Per-Use model that finances, delivers and installs solar farming services to small-holder farmers. Oorja helps families, communities and industries adapt and transition away from fossil fuels in a managed and durable way.
Solaristique | Nigeria | 2019
Solaristique is a recycling company that is tackling Nigeria's food waste problem by turning old freezers into a range of low-cost, hyper-efficient, solar-powered cold storage units for off-grid use.
Meet the SET start-ups in Berlin!
Feeling inspired by the solutions you're seeing here? Join the SET Tech Festival on 28 March 2023 in Berlin and get to meet and support hundreds of innovative start-ups!
The SET Award – What we do.
The SET Award is an international competition for start-ups and young companies that enables fifteen entrepreneurs with the chance to win our prestigious award, including a cash prize at the SET Tech Festival to be held in Berlin in Spring 2023. In the last seven years, the award has received more than 3,100 applications from over 100 countries.
The global SET initiative has three central pillars: SET Award, SET Tech Festival and SET Newsroom. Supported and powered by the German Energy Agency (dena), the World Energy Council and the German Federal Ministry for Economic Affairs and Climate Action (BMWk), SET consistently strives to facilitate its ever-growing network of innovators with a platform to exchange their ground-breaking ideas.