As we kick off 2023 after one of the most eventful years in the energy industry, new and encouraging developments are happening across a range of SET Alumni start-ups. After a long pause, we're back with the latest in our Start-Up Success Stories series, providing a snapshot of the latest goings-on in the world of energy transition and net zero. Read on for highlights from SET100 alumni start-ups, this time focussed on Australia's SwitchDin, Bangladesh's SOLshare and Germany's ONOMOTION.
SwitchDin leads the way in DER and VPPs for Australia & New Zealand
After taking home the 2020 SET Award in Energy Distribution and Storage, the New South Wales-based Australian company has had an impressive two years of growth and pioneering success. SwitchDin develops technology that makes distributed energy resources (DERs, such as solar PV and batteries) visible and controllable. This in turn enables the creation of virtual powerplants (VPPs), and microgrids as well as helps to integrate those DERs into the grid. By the time they won the award, their proprietary technology was already used by network operators and utilities such as Ausnet Services, Horizon Power, SA Power Networks, AGL, Origin and Simply Energy.
Since then it has quadrupled its distribution in Australia and New Zealand through partnership agreements with Solar Juice, Tradezone and Solar Partners New Zealand; it is the virtual power plant of choice for Simply Energy across all of Australia; developed the Northern Territory's first VPP and brought Western Australia's largest VPP online; and, finally, was selected for the AWS Clean Energy Accelerator 2.0 and the US's Third Derivative (D3) growth accelerator programmes.
Oh, and they also represented Australian innovation at COP27. We can't wait to see what comes next for SwitchDin.
SOLshare tapped by UN, reaches the global stage at COP26
The Bangladeshi company has had a successful few years since winning the 2017 SET Award in the 'Demand-side Innovation' category. This it won, by the way, only two years after being founded in 2015. SOLshare's innovation lies in allowing villagers to secure more solar power, saving them money through flexible energy access, and generating income from trading any surplus electricity back to the grid.
Since winning SET, the last few years have seen a flurry of exciting activity for the young startup. Not long after winning, SOLshare (formerly known as ME-SOLshare) was the winner of a prestigious United Nations Department of Economic & Social Affairs Energy grant (totalling around 1 million USD) alongside Grameen Shakti in 2017.
After numerous investment rounds – and one first prize in Siemens Stiftung's 2019 Empowering People Award – SOLshare stepped onto the world stage. During Glasgow's COP26, SOLshare gained worldwide attention as one of 15 finalists for the prestigious Earthshot Prize (2021), founded and run by Prince William of the UK, presenting their solution onstage to an unprecedented global audience. Finally, last year saw the company become one of the four winners of the Zayed Sustainability Prize 2022 at the Abu Dhabi Sustainability Week as well as announce a new partnership with the British High Commission to provide solar PV solutions across their complex. We can't wait to see what's next.
ONOMOTION helps UPS make their last-mile delivery transportation sustainable
Finally, in what was one of the strongest performing news stories from the SET network last year, 2022 SET Award finalists ONOMOTION soon announced their partnership with the world's largest parcel delivery company, UPS. The partnership started with a trial in February 2022 piloting seven of ONOMOTION's innovative eCargobikes on delivery routes across Hamburg. With the success of that project, UPS and Onomotion soon expanded their cooperation, delivering 10 new bikes to Hamburg and Cologne. The benefits? The partnership is projected to help save 57 tons of carbon dioxide each year.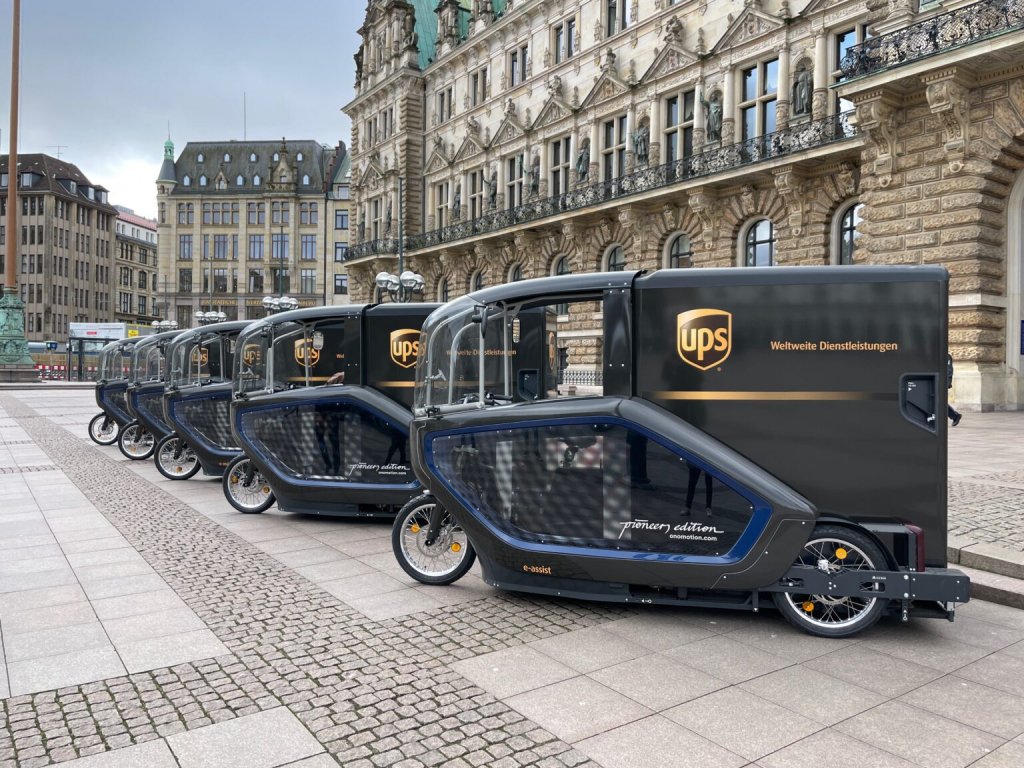 UPS is just the latest customer to join the Berlin-based startup's growing customer base, which also includes fellow logistics heavyweights dpd Germany.
ONOMOTION's eCargobike is an emission-free solution that transforms how urban logistics operates. By offering cost-effective, standardised vehicles with modular platform systems, the start-up is the definition of micro-mobility. And while still only a finalist in the 2022 SET Award, the validity and ingenuity of ONOMOTION's solution soon secured the young company a further two successes: the 2022 Auto Motor and Sport Safety & Environment Award at the 13th auto motor und sport KONGRESS in Stuttgart as well as a €6 million EUR in series A funding via Proeza Ventures, zu na mi GmbH and the European Innovation Council. Onwards and upwards for ONOMOTION!
Meet the SET start-ups in Berlin!
Feeling inspired by the success stories of SwitchDin, SOLshare and ONOMOTION? Join the SET Tech Festival on 28 March 2023 in Berlin and get to meet and support hundreds of innovative start-ups!