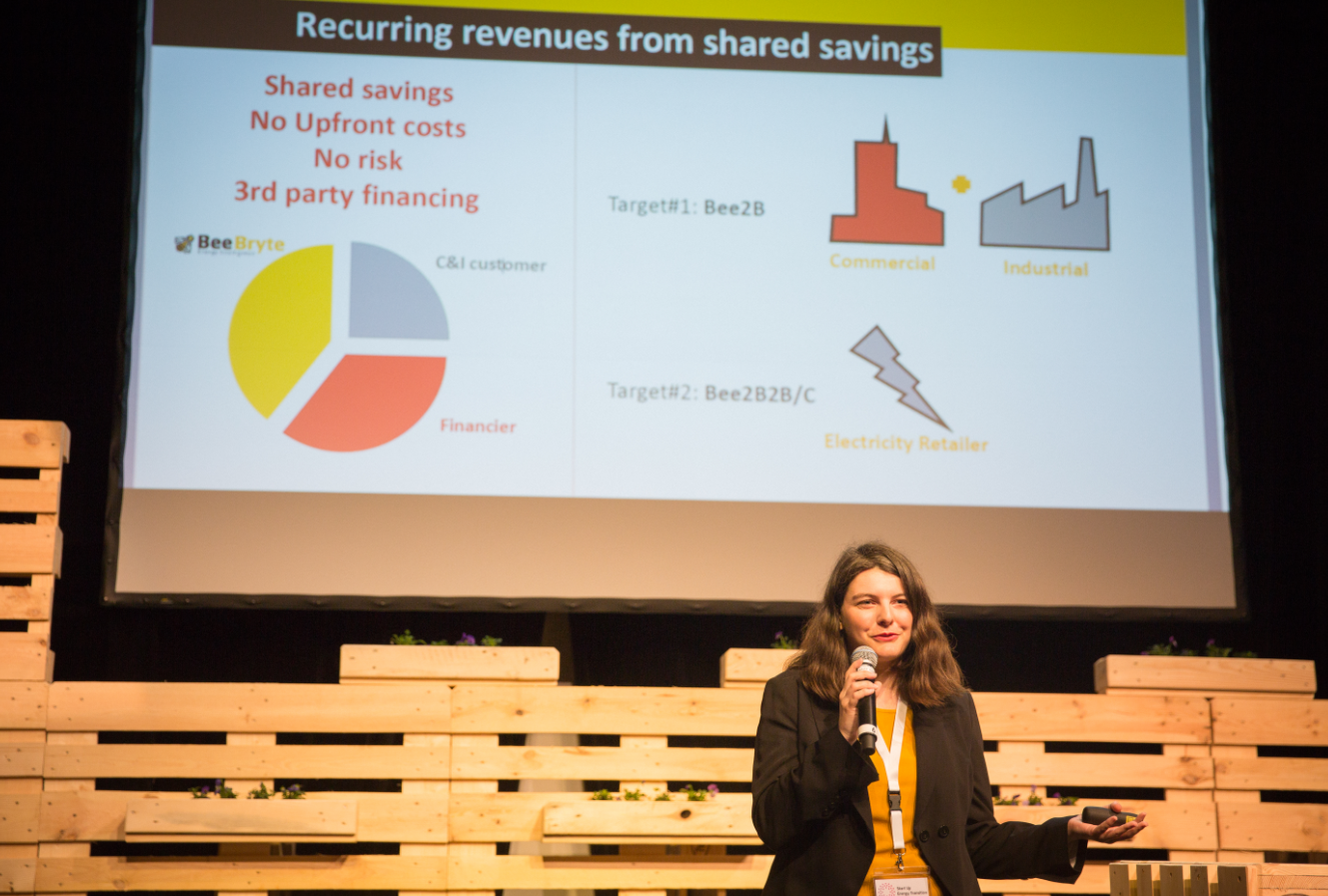 5 questions to Manon Dirand, from BeeBryte S.A.S – SET Award Winner 2017
March 8, 2018
We spoke with BeeBryte, the winner of the SET Urban Energy Transition category in 2017! BeeBryte is a cloud-based Software-as-a-Service (SaaS) that optimizes energy consumption by maximizing self-consumption from onsite generation (e.g. Solar PV), capturing electricity price arbitrage opportunities, reducing demand charge and bringing services to the Grid. Find more information about this amazing start-up here: http://bit.ly/2aWxJbp
Tell us the story behind your project/company?
The idea for BeeBryte came as Frédéric Crampé was looking for a new challenge after successfully founding ReEx Capital Asia, a cleantech investment bank.
Still fascinated by the clean energy space, Frédéric got intrigued by Singapore's electricity spot market and studied its price volatility. He wondered if energy storage systems (batteries) could be used to store electricity when the price was low and used to re-sell the electricity when its price was high.
One day, as he was talking to his friend and former engineering school classmate Patrick Leguillette on the phone, he mentioned his new interest. An expert in computer science and complex real-time numerical calculations and modeling, Patrick said he had been looking at batteries too, but more from a technical standpoint.
The two talked regularly about it for a few weeks and got to the conclusion that they should "be crushing numbers together" Frédéric Crampé says.
Fast forward two years, BeeBryte employs 20 staff and just signed its first contracts with the City of Paris, the well-known French frozen products brand Picard, and is negotiating with LINDE and DHL.
What makes you passionate about your project?
We believe our economy is poised to (i) undergo a technology-enabled energy revolution, (ii) transition to a clean sustainable energy future, and (iii) transform consumers' relationship to energy with disruptive business models. We think the new disruptors will be services operators bringing customer-centric convenience, choice, and control afforded by energy decentralization and digitalization.
With BeeBryte's solutions, we want to help our customer take an active part in this energy revolution! Our mission is to empower consumers and communities to gain access to cheaper, cleaner, and smarter energy by re-inventing the electricity future with both technological and business model innovations.
That's why we work day after day on leveraging the latest artificial intelligence techniques to offer a non-intrusive, flexible, evolutive and easy-to-deploy solution to monitor and control customer's energy use, reduce operating costs and prevent utility bills from skyrocketing.
What in the energy, sustainability, and start-up world keeps you up at night?
We can see the consequences of climate change every day. Energy, and especially building's electricity consumption plays a big role in CO2 emissions. Providing affordable and easy-to-deploy solutions is key to accelerate the energy transition and achieve our common goal of keeping global warming below 2°C.
Tell us what happened after your company was selected to be a winner at SET 2017.
The Start Up Energy Transition award gave us visibility and recognition internationally, especially in Germany where we've been working with several partners since SET2017. Some potential investors and clients got a hold of us thanks to the event and the press articles that followed. The entire team has been very grateful and proud to receive such recognition.
What stands out for you when you remember SET2017?
SET 2017 was a real opportunity to meet highly innovative start-ups from all around the world. We kept in touch and we've been since discussing with some of them about developing projects together bundling our respective innovative solutions.
The award ceremony itself is a great memory! Receiving the award at the Kino International in front of a fantastic audience of highly-recognized policy and business professionals was impressive and gave us great exposure.