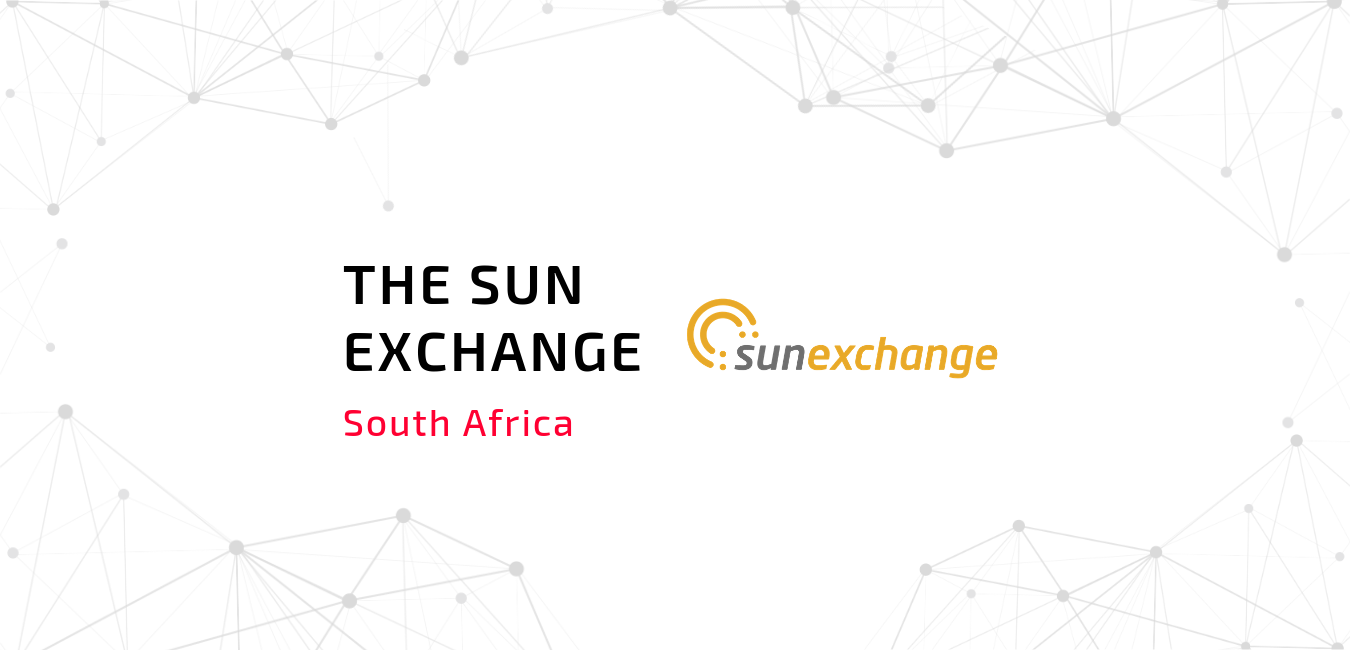 #SET100 at WEC24 – Road to Abu Dhabi Interview: The Sun Exchange
June 25, 2019
As part of the SET Award 2019, the top 100-ranked start-ups who applied for the SET Award were rewarded the opportunity to participate and showcase as part of the Innovation Hub at the 24th World Energy Congress (WEC24) 2019 in Abu Dhabi. Sponsored by the Dubai Electricity and Water Authority, this incredible opportunity includes travel and accommodation expenses, and a showcase space for the SET100 at the congress.
In the lead up to WEC24, we asked the participating SET100 start-ups to answer a few questions to provide potential partners the opportunity to learn more about them and to also help other start-ups learn from their experiences. We thank them for their work toward the global energy transition and for sharing with us the following insights.
#SET100 Start-up: The Sun Exchange (South Africa)
Sun Exchange is a buy-to-lease solar marketplace where conscious capital accelerates the global transition to solar energy. Their platform combines the decentralizing and democratising capabilities of solar power and blockchain-based finance with sharing economy principles to make the benefits of solar power more accessible and inclusive.
Traveling, pitching, partaking in meetings, and networking requires considerable time and effort. Other than perhaps being given a blank check, what is the best case scenario or result you as a start-up hope to get out of participating in initiatives such as the SET platform and the Innovation Hub at the 24th World Energy Congress in Abu Dhabi?
Our goal for Sun Exchange's participation in the SET Platform and World Energy Congress is to network with potential investors, find potential solar project pipeline channels and delivery channels that enable us to host projects and expand into the Middle East, and to spread the word about how individuals can build wealth while doing good for the planet through the Sun Exchange buy-to-lease solar marketplace.
Given the stage of your start-up and your particular focus/sector/technology, what is one challenge that you have overcome or lesson that you have learned that may be valuable to other similar start-ups?
One challenge has been the amount of time it takes to build great, stable software. While the vision for our platform was there from 2014, it was incredibly complex to build and getting to where we are now took years of hard work and dedication by some of the brightest minds in the industry. Sometimes the quick and easy is not necessarily the cheapest way to do something. We were told early on by a mentor that building the software would cost twice as much as we expected and take four times as long, and they were not wrong!
What is one of the main obstacles or regulations that you have had to overcome prior to, or in preparation of market entry into your given business environment?
Sun Exchange is in the solar finance sector in South Africa. One major obstacle in our earliest days was getting the right team together. Ultimately, the success of a company comes down to the people who are behind it, so we've strived to find the best of the best for our team. In such an innovative industry, we are all to some extent learning by doing, which requires more effort and more resilience to adversity. The hard work has paid off, because now we can confidently say that we have an incredibly solid, dedicated team of brilliant industry leaders who fully support the purpose and mission of the business. That puts us in a great position to scale.
Is there some recent news or something else you would like to share?
Sun Exchange solar crowdsales have gone from taking 6 weeks to sell out when we first started in 2015, to now selling out in just a few hours. A video showcasing our most recent solar project crowdsale, and the kind of impact our projects can be found here.
Thanks for reading and thanks again to The Sun Exchange. More information about them can be found here: https://thesunexchange.com/
More about the SET100, including a full list of each SET100 start-up can be found here.