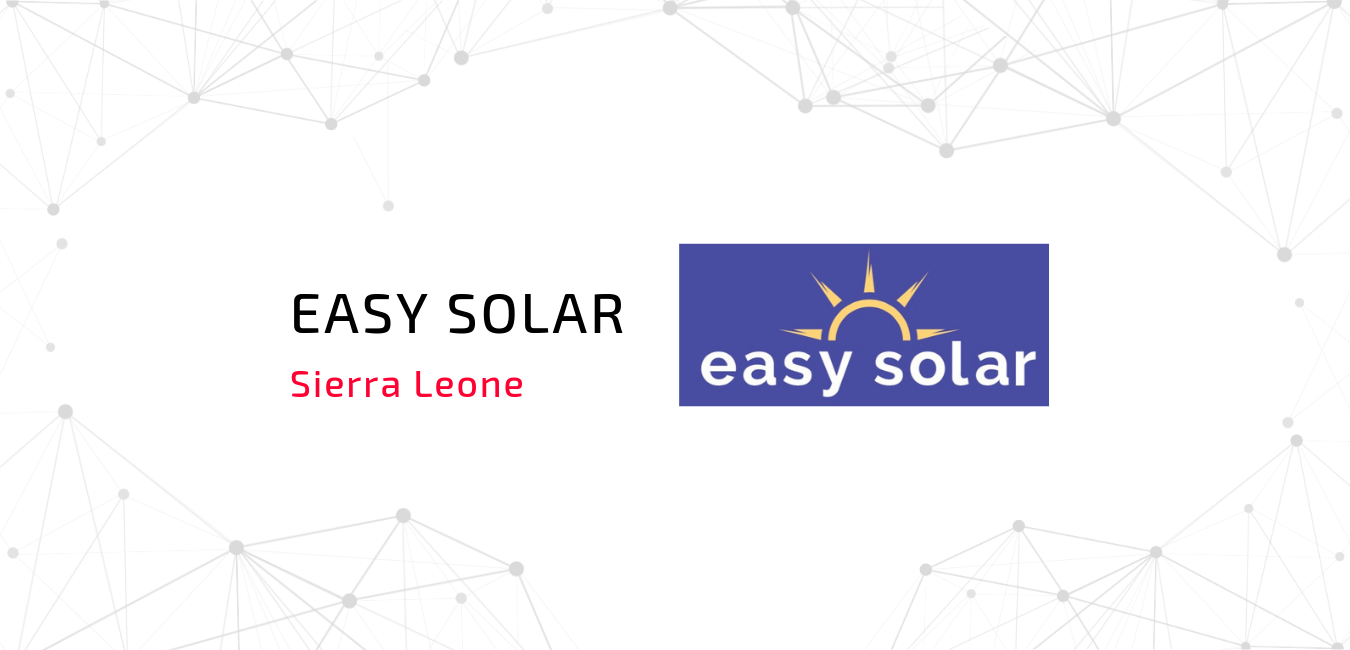 #SET100 at WEC24 – Road to Abu Dhabi Interview: Easy Solar
August 8, 2019
As part of the SET Award 2019, the top 100-ranked start-ups who applied for the SET Award were rewarded the opportunity to participate and showcase as part of the Innovation Hub at the 24th World Energy Congress (WEC24) 2019 in Abu Dhabi. Sponsored by the Dubai Electricity and Water Authority, this incredible opportunity includes travel and accommodation expenses, and a showcase space for the SET100 at the congress.
In the lead up to WEC24, we asked the participating SET100 start-ups to answer a few questions to provide potential partners the opportunity to learn more about them and to also help other start-ups learn from their experiences. We thank them for their work toward the global energy transition and for sharing with us the following insights.
#SET100 Start-up: Easy Solar(Sierra Leone)

Easy Solar is a Sierra Leone based for profit social enterprise. Our mission is to build long-lasting client relations through the distribution and financing of high quality ultra-affordable PAYGo solar energy products in West Africa.
Traveling, pitching, partaking in meetings, and networking requires considerable time and effort. Other than perhaps being given a blank check, what is the best case scenario or result you as a start-up hope to get out of participating in initiatives such as the SET platform and the Innovation Hub at the 24th World Energy Congress in Abu Dhabi?
• Connect and attract potential funders for the future
• Share our business journey in West Africa; challenges and success, specifically working with an epidemic (Ebola outbreak and War) country
• Get the opportunity to learn from other entrepreneurs in the renewable energy sector
• Share strategies that we have applied to enter into a new market as to attract other renewable energy entrepreneurs in Sierra Leone
Given the stage of your start-up and your particular focus/sector/technology, what is one challenge that you have overcome or lesson that you have learned that may be valuable to other similar start-ups?
Extending solar products on credit to clients in a country with a very minimal mobile money reach has so far been our toughest challenge. However, we are overcoming it by using our community based agent model to collect cash directly from the clients and remet it to the sales supervisors who later deliver it to office on a weekly basis. We have also partnered with Orange Telecom as the first company in Sierra Leone to integrate mobile money with energy services.
What is one of the main obstacles or regulations that you have had to overcome prior to, or in preparation of market entry into your given business environment?
Behavioral change operating in a new market with no competitors.
Thanks for reading and thanks again to Easy Solar. More information about them can be found here: https://www.easysolar.sl/
More about the SET100, including a full list of each SET100 start-up can be found here.